Muktinath Helicopter Tour from Kathmandu is one of the easiest way to visit Muktinath Temple in just a short period. This helicopter tour is mainly suitable for old age people who desire to visit Muktinath temple in a very short duration of time. This is a private Muktinath tour package for a group of 1 to 5 people in which we will be flown directly to the Muktinath Temple from Kathmandu. Most of the tourists visit Muktinath to make their religious visit come true. Kathmandu to Muktinath helicopter tour is just a one-hour flight in one way which is specially designed for those with a short time duration to visit Muktinath temple. After landing at the Muktinath, you will be provided one hour to have the darshan of Muktinath Dham. Temple is within a few minutes walking distances from the helipad. Muktinath temple is located at an altitude of 3,750 meters above sea level in the Mustang district of Nepal.
Muktinath is a Vishnu Temple which is located at Muktinath valley at the foot of Thorong LA Mountain pass in the Mustang district of Nepal. Muktinath is known as one of the world`s highest temple altitudes of 3,750 meters above sea level. This temple was created in the 19th century and it is believed that this temple was blessed by Hindus. Inside the Muktinath, there are 108 sacred taps, the taps where the water directly flows from the Puskarini waters (Temple Tanks) from the 108 Sri Vaishnava Divya Desams, where devotees take their sacred bath even in the freezing temperatures. It is believed that bathing in these 108 taps keeps us healthy and prosperous. Many Shaligrams found during Muktinath Yatra over here are considered by Hindus as an incarnation of Lord Vishnu and worship them. According to Hindu Myth lord Vishnu turned into Shaligram because of Brinda's Curse. Muktinath Temple is open throughout the year but especially in Rishitarpani, Ram Nayami, and Bijaya Dashami Thousands of pilgrims gather here to celebrate the festival.
A helicopter tour from Kathmandu to Muktinath takes you to the breathtaking views of the snowcapped mountains flying over the scenic valley, and sub-tropical and alpine forests. You can get to enhance the beauty of the Mountains in just a one-hour helicopter ride. The Muktinath Helicopter tour begins from Kathmandu airport in the early morning as the helicopter tour is difficult in the daytime due to wind and the increasing temperature.
As per the cost of the helicopter ride, the more people the lesser the cost of the helicopter. The price of the helicopter also depends upon the helicopter's flight type. If you want to book a private flight it costs you more but gives you more comfort and facilities. Whereas, sharing a flight needs to adjust with other people with other fixed times.
Trips Highlights
Kathmandu to Muktinath by thrilling helicopter ride
Visit Muktinath and return within 3 hours to Kathmandu
You can have a bird's eye view of the Kathmandu Pokhara city
Breathtaking views of Snowcapped Mountains
Worship Vishnu god
Holy bath under 108 water taps and 2 holy Kunda
Awesome view of Rupa Tal, Begnas Tal, Fewa Lake, Rupse Waterfall, Kaligandaki River, and Dhumba Lake.
Breathtaking views of Ganesh Himal, Manaslu Himal, Himalchuli, Annapurna Himal, Dhaulagiri Himal, and Tilicho peak.
Adventurous and easiest Helicopter Yatra to Muktinath Temple.
Attraction to Muktinath Temple
Mukti Kunda: Two holy water ponds known as "Laxmi Saraswati Kunda" are located in front of the temple. Taking the plunge here is believed to rinse away your sin.
Mukti Dhara: 108 Waterspouts in the backyard of the temple where holy water from the Gandaki River flows continuously. Taking bath under all these 108 Muktidhara is believed to bring salvation.
Jwala Mai Temple: Continuously burning holy flame from a rock located inside Dhola Mebar Gompa is just five minutes' walking distance, situated in the south region of the temple.
Pharma Lha Khang Gompa: Monastery located in the north region of the temple is dedicated to Guru Rimpoche also known as Padmasambhava.
Swaminarayan: Satguru of Sabij Yoga.
Shaligram: Fossils of the Jurassic park age that is found in the kali Gandaki River. This black stone is the symbol of Lord Vishnu and is kept in the prayer room in the home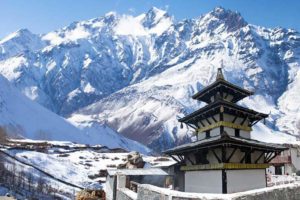 Best time for Muktinath Helicopter Tour
You can come for the Muktinath Helicopter tour all year round. Most numbers of people come for this tour in autumn (September, October, and November) and spring (March, April, and May). You can easily come for this trip in the winter season (December, January, and February) as well.
In the summer season, inclement weather conditions can postpone your flight. In case the weather is fine, you can also come for this trip in the summer season as well.